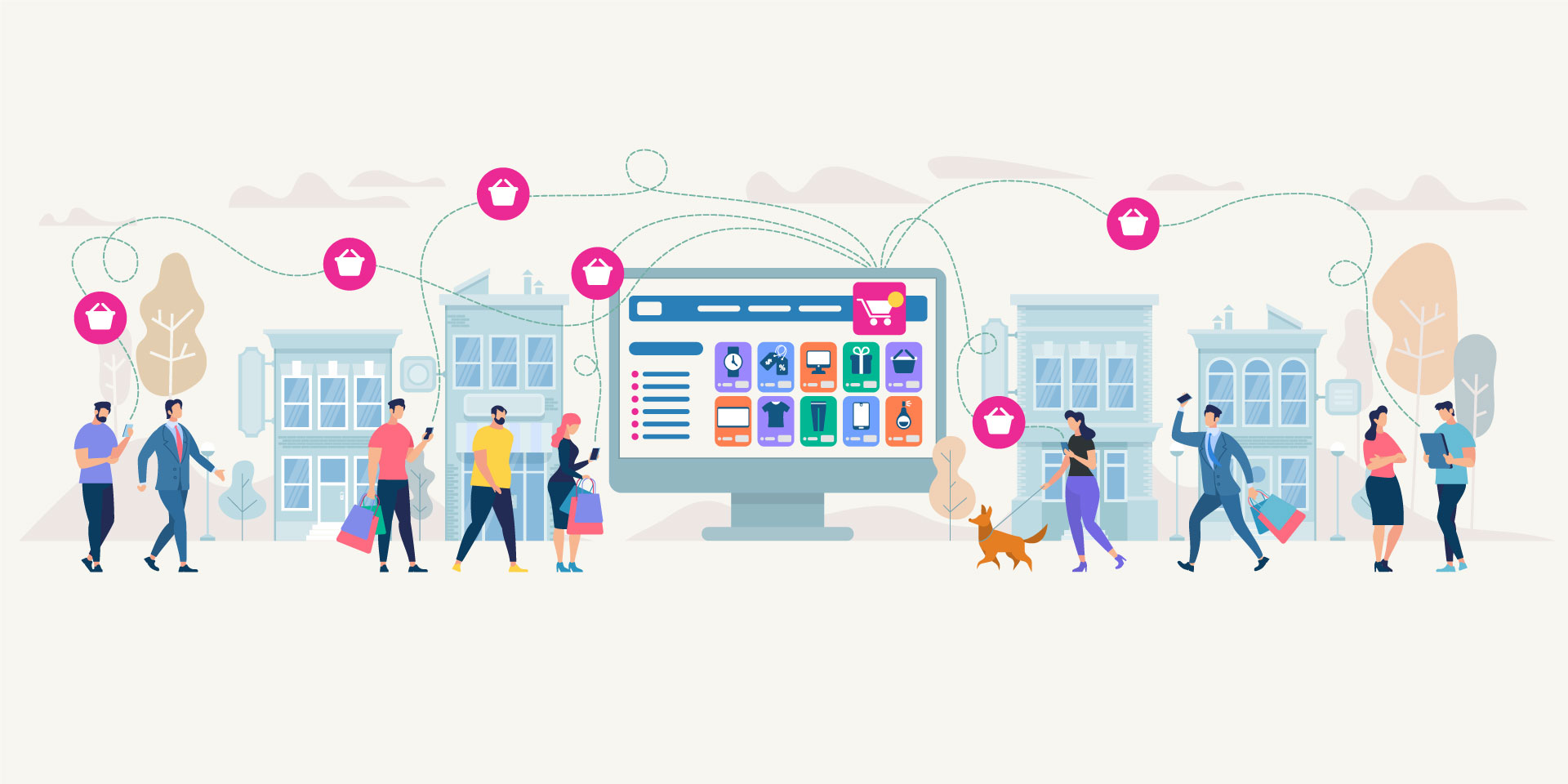 E-commerce (electronic commerce) is the buying and selling of goods and services, or the transmitting of funds or data, over an electronic network, primarily the internet. These business transactions occur either as business-to-business (B2B), business-to-consumer (B2C), consumer-to-consumer or consumer-to-business. The terms e-commerce and e-business are often used interchangeably. The term e-tail is also sometimes used in reference to the transactional processes that make up online retail shopping.
How does e-commerce work?
E-commerce is powered by the internet, where customers can access an online store to browse through, and place orders for products or services via their own devices.
As the order is placed, the customer's web browser will communicate back and forth with the server hosting the online store website. Data pertaining to the order will then be relayed to a central computer known as the order manager — then forwarded to databases that manage inventory levels, a merchant system that manages payment information (using applications such as PayPal), and a bank computer — before circling back to the order manager. This is to make sure that store inventory and customer funds are sufficient for the order to be processed. After the order is validated, the order manager will notify the store's web server, which will then display a message notifying the customer that their order has been successfully processed. The order manager will then send order data to the warehouse or fulfillment department, in order for the product or service to be successfully dispatched to the customer. At this point tangible and/or digital products may be shipped to a customer, or access to a service may be granted.
Platforms that host e-commerce transactions may include online marketplaces that sellers simply sign up for, such as Amazon.com; software as a service (SaaS) tools that allow customers to 'rent' online store infrastructures; or open source tools for companies to use in-house development to manage.
Types of e-commerce
Business-to-business (B2B) e-commerce refers to the electronic exchange of products, services or information between businesses rather than between businesses and consumers. Examples include online directories and product and supply exchange websites that allow businesses to search for products, services and information and to initiate transactions through e-procurement interfaces.
Business-to-consumer (B2C) is the retail part of e-commerce on the internet. It is when businesses sell products, services or information directly to consumers. The term was popular during the dot-com boom of the late 1990s, when online retailers and sellers of goods were a novelty. Today, there are innumerable virtual stores and malls on the internet selling all types of consumer goods. The most recognized example of these sites is Amazon, which dominates the B2C market.
Consumer-to-consumer (C2C) is a type of e-commerce in which consumers trade products, services and information with each other online. These transactions are generally conducted through a third party that provides an online platform on which the transactions are carried out. Online auctions and classified advertisements are two examples of C2C platforms, with eBay and Craigslist being two of the most popular of these platforms. Because eBay is a business, this form of e-commerce could also be called C2B2C — consumer-to-business-to-consumer.
Consumer-to-business (C2B) is a type of e-commerce in which consumers make their products and services available online for companies to bid on and purchase. This is the opposite of the traditional commerce model of B2C.A popular example of a C2B platform is a market that sells royalty-free photographs, images, media and design elements, such as iStock. Another example would be a job board.
Advantages and disadvantages of e-commerce
Benefits of e-commerce include its around-the-clock availability, the speed of access, the wide availability of goods and services for the consumer, easy accessibility and international reach.
Availability. Aside from outages or scheduled maintenance, e-commerce sites are available 24×7, allowing visitors to browse and shop at any time. Brick-and-mortar businesses tend to open for a fixed number of hours and may even close entirely on certain days.
Speed of access. While shoppers in a physical store can be slowed by crowds, e-commerce sites run quickly, which is determined by compute and bandwidth considerations on both consumer device and e-commerce site. Product pages and shopping cart pages load in a few seconds or less. An e-commerce transaction can comprise a few clicks and take less than five minutes.
Wide availability. Amazon's first slogan was "Earth's Biggest Bookstore." They could make this claim because they were an e-commerce site and not a physical store that had to stock each book on its shelves. E-commerce enables brands to make a wide array of products available, which are then shipped from a warehouse after a purchase is made. Customers will likely have more success finding what they want.
Easy accessibility. Customers shopping a physical store may have a hard time determining which aisle a particular product is in. In e-commerce, visitors can browse product category pages and use the site search feature the find the product immediately.
International reach. Brick-and-mortar businesses sell to customers who physically visit their stores. With e-commerce, businesses can sell to any customer who can access the web. E-commerce has the potential to extend a business' customer base
Lower cost. pure play e-commerce businesses avoid the cost associated with physical stores, such as rent, inventory and cashiers, although they may incur shipping and warehouse costs.
A few examples of e-commerce marketplace platforms include:
Amazon
eBay
Walmart Marketplace
Chewy
Wayfair
Newegg
Alibaba
Etsy
Overstock
Rakuten